Why Choose Gold Coast Yachts

 
Our Experience
The nearly 140 multihulls built by Gold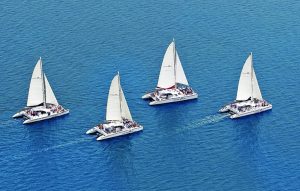 Coast Yachts represent our experience gained from over 35 years of commercial vessel design, construction, operation, and ocean deliveries. Each boat is 100% designed, built, assembled and commissioned by teams of skilled craftsmen in the US Virgin Islands. Our staff is trained in a variety of composite construction and system installation techniques. Our design and ship systems teams are led by Karl Peterson and Jeff Bisson to meet the performance, structural, mechanical, electrical, plumbing, and Coast Guard demands of each project.
Our Construction Processes
The construction process begins at our dedicated hull & large component facility where our hulls are typically built in female molds using industry-leading resin infusion processes. We also have molds for component construction of bridgedeck floors, cabin roofs, decks, flat panels, beams, daggerboards, rudders, and many more components. Primary materials consist of epoxy infusion resin, Vectorply fabrics and Corecell foam. Structural and secondary components are prefabricated and assembled once the hulls are completed using Gougeon West Systems and Pro-Set epoxy.
Upon completion of the hulls and other large parts, we transport them to our finishing & launch facility at Salt River. There our skilled craftsmen finalize construction of the main components and put all of the finishing touches on each of our custom-designed vessels. Our systems engineers install the electrical, engine, and other components while our knowledgeable rigging staff will meticulously outfit any sailing components required for the vessel.
Sailing Vessels
The "heart" of the Gold Coast Yachts sailing design is our rotating wing spar. This efficient, low-windage rig features a 2:1 shaped resin-infused carbon fiber & Corecell foam wing spar. When combined with our specialty hull rocker, thick-sectioned high aspect ratio rudders, and daggerboards produces maneuverability unparalleled by other catamarans.
Power Cats
Wave-piercing hull forms, displacement hull forms, very slender hulls, and canoe shaped sterns are all part of our design expertise. Our desire is to build modern, highly fuel-efficient composite power cats tailored to an owner's specific use. We take pride in our ability to meet an owner's requirements for performance, cost, and accommodations through careful selection of vessel type, size, layout, horsepower and drive line system.

Valued Client Relationships

We enjoy meeting each new client and learning about their home, family, business, and future plans while discussing their vessel needs. One of our core principles is that we believe that relationships are more important than issues. Clients, employees, suppliers, and other business partners are all considered part of the Gold Coast Yachts Family. In our relationships, we endeavor to embody that great principle. We invite you to become part of the trusted Gold Coast Yachts Family.
We look forward to building you a great boat.
The crew at Gold Coast Yachts