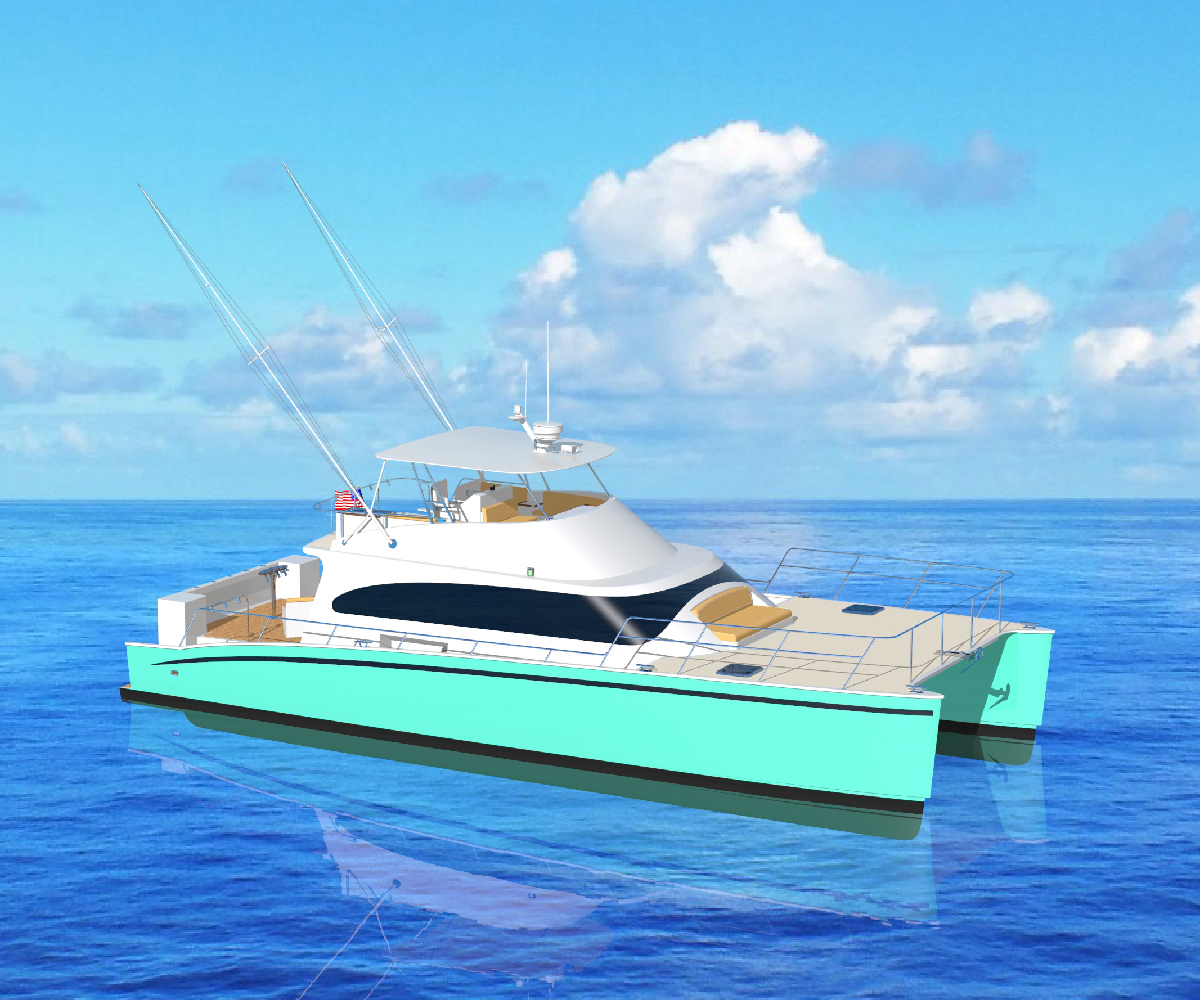 SUMMARY
This custom Sport Fishing design combines the success of Gold Coast Yachts' power catamarans and the established benefits of sport fishing multihulls. Built on a proven hull, this vessel will provide phenomenal safety and fuel efficiency, in addition to a fast and comfortable experience. With a 23'-6" beam, this catamaran supports a walkaround deckhouse cabin, plenty of open deck space, and an assortment of luxurious amenities. The layout is well suited for fishing excursions & trips, cruises, or a variety of day chartering activities. With Gold Coast Yachts' experience building USCG certified and inspected small passenger vessels, the owner has the opportunity to generate revenue, or simply have the peace of mind that their vessel is built to the highest standards by America's best boat builders.


Speed, Maneuverability, and Safety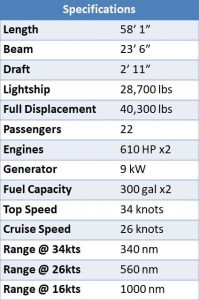 Keeping with the Gold Coast Yachts tradition of providing reliable, hard-working vessels, this design was conceived with a pair of commercially rated Cummins QSM-11 610HP engines. With one in each hull, the operator has ultimate dependability from two completely separated, watertight, and redundant engine rooms. The twin engines spaced far apart in this catamaran allow for 360ᵒ maneuverability without the added complexity and flooding risk of a bow thruster. All plumbing, electrical, and machinery systems will be custom designed and engineered to the owner's wishes with the durability & quality characteristic of a GCY vessel.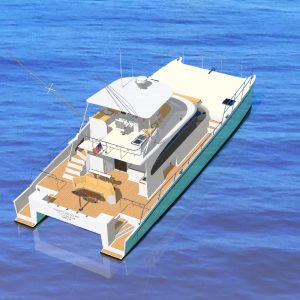 The combined 1220HP can push this hull up to and over 34 knots while still burning minimal fuel. With a mere 600 gallons total tankage of diesel, you can expect a range of about 1000nm at a brisk 16 knots, or 340nm at wide open throttle. This is achieved by the inherently efficient nature of the vessel, with both streamlined hulls and lightweight construction. The hulls are a very slender 15:1 length to beam ratio, leaving very little wake to disrupt your fishing.
At just 25,700 lbs lightship displacement, this spacious vessel is built with advanced composites and weights a fraction of other comparable vessels. Innovative hull designs and lightweight construction have long provided commercial Gold Coast Yacht owners a competitive advantage that can also be appreciated by private owners. This hull also has a unique design feature where the prop shaft is internal and is not exposed, meaning there are no struts, which mitigates the risk of shaft damage, reduces drag, and reduces metallic signature.
Whether the vessel is to be used for personal use or commercial charter service, safety of any vessel should not be overlooked. Safety should never be assumed. That motto applies when buying a new vessel, as much as it does when casting off. With 3 million people onboard GCY vessels every year, safety is engrained in everything we do. With five watertight compartments in each hull, stability and resistance to flooding are unmatched by any monohull. These vessels physically cannot sink and almost always can motor home under their own power following a catastrophic event. Everything from slips & falls to fires & flooding are meticulously thought out and mitigated.


Layout and Amenities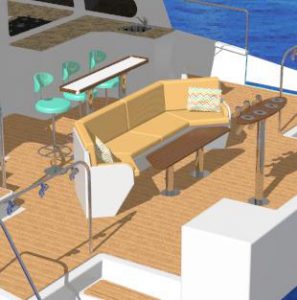 The layout was conceived for functionality, convenience, and versatility by maximizing the outdoor space. The aft deck offers plenty of space for fighting fish while still providing comfort and function for other guests and activities. The back area is flexible with options for live wells, bait stations, tackle storage, and fish holds. Stairs down to the two stern decks provide easy water access for landing fish or going for a swim. An exterior galley, day head, upholstered lounge seats, tables, and bar stools are all accommodated on the aft deck outside of the deckhouse. This far exceeds the exterior amenities of other fishing vessels of similar size. A large staircase allows for safe access to the flybridge for guests of all ages.
The flybridge has comfortable lounge seats and a wet bar, for those wanting to relax with a view. The helmsman is provided an excellent position to observe and command the vessel with clear view of both sterns and both bows. At 34 inches wide, the side decks can easily be used to space out large groups of individuals fishing. The foredeck is outfitted with a sun bed and perimeter rails, allowing guests to enjoy the sun while others fish all around the vessel unobstructed.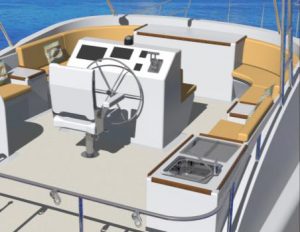 The deckhouse was envisioned as a place to rest and relax away from the elements. The large galley can support food preparation for charter groups or parties. The indoor bar is a nice feature, practical for a variety of uses. The indoor head can accommodate a full sized shower and typical bathroom amenities. A generously sized owner's suite above deck provides a great view with easy access. Additional accommodations or storage spaces can be added into the hulls and be accessible from inside the deckhouse.

FOR INFORMATION PLEASE CONTACT RICH DIFEDE