Custom 51′ Service Vessel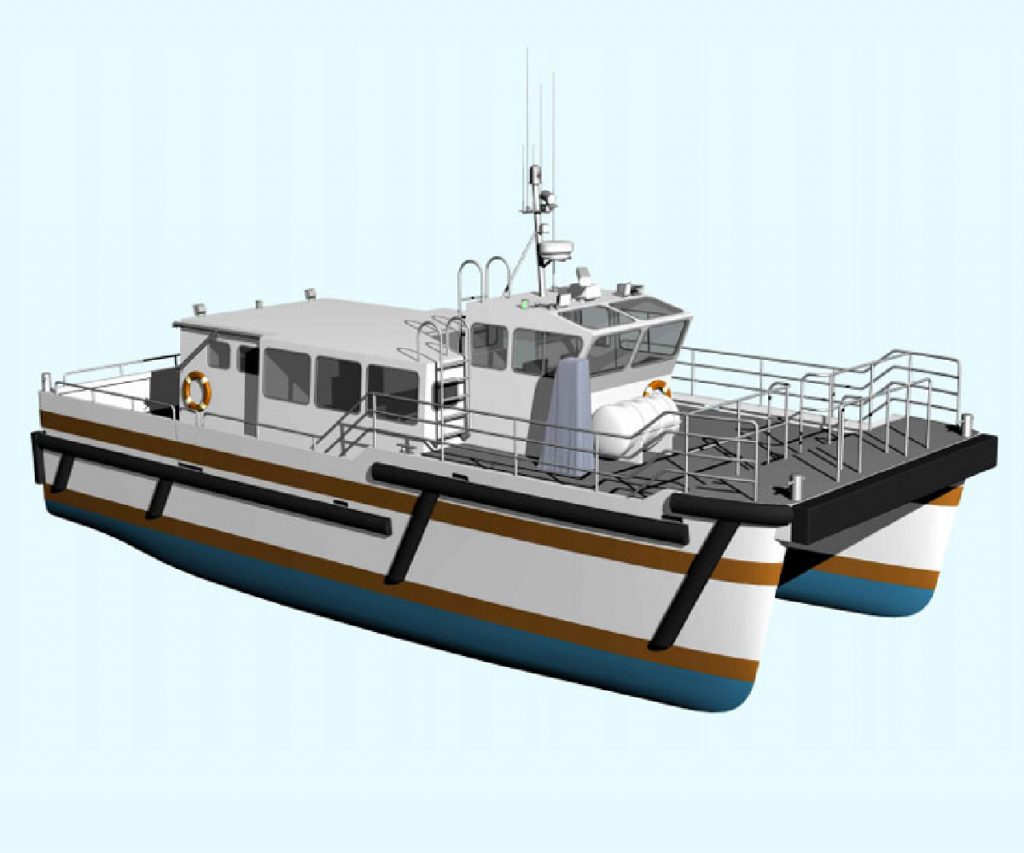 SUMMARY
The Support Vessel is a heavy duty and seaworthy composite catamaran for transporting technicians and light cargo to offshore windfarms as well as providing all necessary amenities for the technicians. It provides true fuel efficiency without compromising on structure through a proven hull and advanced construction methods and materials. A comfortable and functional interior with a safe and functional exterior were key design themes for the vessel. The versatile interior and exterior arrangement can suit a wide range of uses and alternative fit-outs.


Systems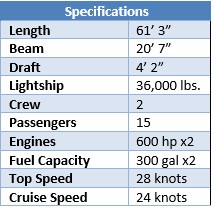 The Support Vessel is designed to deliver up to 15 technicians to offshore windfarms quickly using two large 600 horsepower engines. These engines, combined with an innovative hull design, allows for the Support Vessel to achieve a top speed of up to 28 knots and maintain an optimal fuel burn rate with a cruising speed of 24 knots. Customers can choose an engine manufacturer of their liking to match other powerplants found in their existing fleet or select from an assortment of powerplant providers from Gold Coast Yachts' diverse portfolio of engine suppliers.
Ship systems also include a 14kW 4' and a 4kW 2' radar system coupled with thermal night cameras to allow for high-accuracy obstacle mapping during nighttime or foul weather operation. Gold Coast Yachts can also design the entire 120v AC & 12v DC electrical with generators of various sizes to accommodate any specialty components required by the customer's unique operations.


Amenities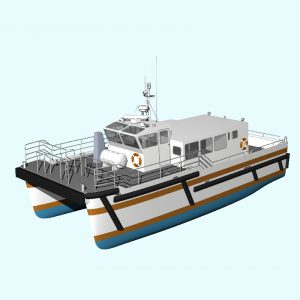 The passenger cabin is climate controlled, providing many amenities with a complete TV/entertainment system, a food preparation area, a settee, seating for 9 additional passengers, and a desktop. Near the entrance in the passenger cabin is a workbench area, a head compartment, a shower compartment, and an open coatroom for wet work gear.

Also, at the main entrance are 3 large lockers for deck gear, safety equipment, work gear, and/or additional spare parts. Stepping up from the passenger cabin is a raised pilothouse with a 360° view through forward, side, aft, and roof windows. The helm comfortably seats 2 crew members with a large display/control area and quick access to the deck via a side door.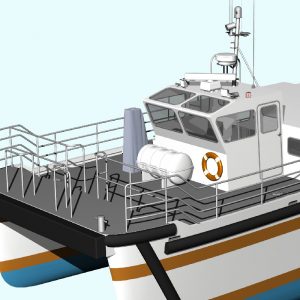 Deck are well lit providing a safe working deck with perimeter and step rails. A mast mounted searchlight and thermal night vision camera make night operations as safe and stress-free as possible. With a hydraulic lifting boom aft and a HIAB crane forward, loading cargo onto the large open fore and aft decks is quick and easy.

FOR INFORMATION PLEASE CONTACT RICH DIFEDE