Consultation
Put our decades of multihull experience to work for you! With in-depth knowledge of boatbuilding, repair, and operations, we are happy to share our knowledge and support the community.  Whether you are looking for a formal consultation or simply interested in getting a second opinion, we provide consultation services to ensure that you're getting the quality you expect and deserve. We can act on your behalf or provide you with sound guidance in a variety of areas.
Advanced Composites
Novel Hull Designs
Multihull Design and Engineering
Classic Wooden Multihulls
Multihull Rigging including Wing Masts
Sailing Catamarans and Trimarans
Day Charter Operations
Passenger Vessel Safety
USCG Inspected Small Passenger Vessels
Vessel Repairs or Refits
Maintenance Schedules
Vessel Valuations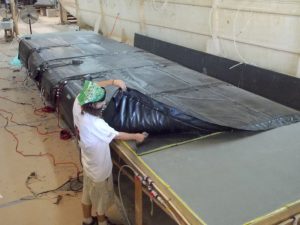 Emergency Repairs
When disaster strikes, a vessel operator can become overwhelmed with the tidal wave of details and concerns. This is especially true for a fleet of vessels after a major hurricane where the vessels themselves are just one of many critical issues demanding your attention. Let Gold Coast Yachts assist or completely handle your vessel repair. We can get you back in operation quickly. With our familiarity of multihulls and various repair processes, we can offer you or your local boatyard expert guidance. Depending on the circumstances, we can also fly out to you to conduct the repair at your location or repair vessels at our facilities on St. Croix. Even minor repairs can be done by Gold Coast Yachts professionally and timely, avoiding unforeseen complications and minimizing
downtime. We are able to work with local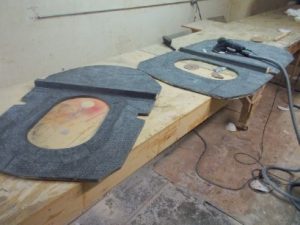 USCG inspectors to review the damage and develop an approved repair plan, fly out with materials and conduct the repair, and receive sign-off by the USCG to return to service, all within a few days. Additionally, if you own a Gold Coast vessel, we can fabricate new components such as rudders and keels for a quick like-for-like replacement. Call us immediately, so we can start developing a repair plan for you!
Refits, Repowers, & Remanufacture



Gold Coast Yachts has years of experience working with vessel owners, their crew, the United States Coast Guard, local boatyards, and equipment manufacturers to perform a wide array of enhancement work on vessels. Whether you're looking to put a vessel into a new route, offer different amenities on your vessel, or simply freshen up after years of hard work we can assist. Whether your needs are structural or cosmetic, mechanical or electrical let Gold Coast Yachts make sure the work goes smoothly. We can assist your local boatyard with remote design and engineering work, or perform a complete overhaul here on St. Croix. Call or email us today to find out how we can help. Below are just some of the ways we have helped vessel owners in the past:
Re-Power
Electronics Modernization
Safety Equipment Upgrades
USCG Consultation
Stability and Weight Changes
Superstructure or Accommodation Changes
Improved Handicap Accessibility
Structural Modification
Rigging Replacement or Redesign
Continuing Maintenance Agreements
Crew, Maintenance staff, or USCG Training
Component Replacement or Upgrades